The Portuguese Spirit of Surfing
in
DA SILVA SURFCAMP
Portugal
At Da Silva Surfcamp you are close to nature, the sea and the Portuguese culture and joie de vivre. First class surf spots with little crowd offer perfect conditions for beginners and advanced surfers. Legendary BBQs and spontaneous campfire sessions provide unforgettable moments!
And this is what our guests write:
"We had an awesome time at Da Silva Surfcamp - the casual grounds designed with a lot of charm and creativity offer the ideal space for the whole family to relax: Surf sessions at the numerous spots in the immediate vicinity, extensive beach days, chill-out in the camp, yoga, pony rides, skating, campfires under the starry sky, sociable bar evenings with table-football tournaments, the breakfast with gluten-free & vegan options, delicious BBQ evenings and simply relaxed people - we leave with countless wonderful memories in our luggage. But what shaped the time for us above all and the cherry on the cake was the first-class Team 2022, which made the Da Silva Surfcamp an absolute happy place for us - thanks to everyone for pampering us - we have extended our stay (not just once :-) and will be happy to come back!"
You can find the latest photos, current info and special offers (last minute) on our Instagram account.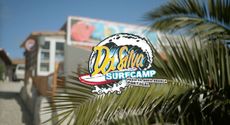 Certified by the Portuguese Surfing Federation
Get to know the "Spirit of Surfing" –
not only during surf lessons, but 24/7.
The Da Silva Surfcamp Portugal is a typical Portuguese country house in a quiet location with wonderful views over the countryside to the sea. Here a shepherd and his flock of sheep pass by twice a day, in the morning you are woken up by the crow of a rooster, otherwise you only hear the birds chirping. 20 minutes walk to the beach, with the beach cruiser, which you can rent for free, it only takes 10 minutes. This house is perfect for people who want to relax and escape the stress of the big city. It is ideal for families with children.
Book without detours, or do you have any questions? Regarding the swells, the surf school or around the camp and its events? You will find answers in our FAQ. And if not, theDa Silva Surfcamp Portugal answer this and your booking request 24/7!
No matter if you want to explore the spots and waves of the area on your own or if you prefer to join a surf course, the Da Silva Surfcamp Portugal offers you a very friendly and relaxed atmosphere. Starting at 25 € per night or in a surf package from 415 € per week.
You get hot? Well then, get on the plane to Lisbon! The 60km to the surf camp can be easily done by express bus to Praia da Areia Branca, where we will pick you up at the bus stop. "Luck is so close". If this is too stressful for you, you can also use our airport transfer.